Experience the beautiful nature, the magic atmosphere and peace
We offer interesting programs and attractions for different groups:
–Presentation of the enterprise and possibility to caress the sheep.
–Stroll in the beautiful surrounding by the sea
–Craft exhibition/ Farm shop or wool and fur products in the cellar (bodega)     Stentorp collection 
-Aquarelles in the dining room
–Summerexhibition 2021  : WOOL   What´s new
-Sheepdog show. We hope our new young bordercollie has learned enough to give a show  with the sheep. Our programs are suitable for young and old.
This summers yield : Wild Herbs tema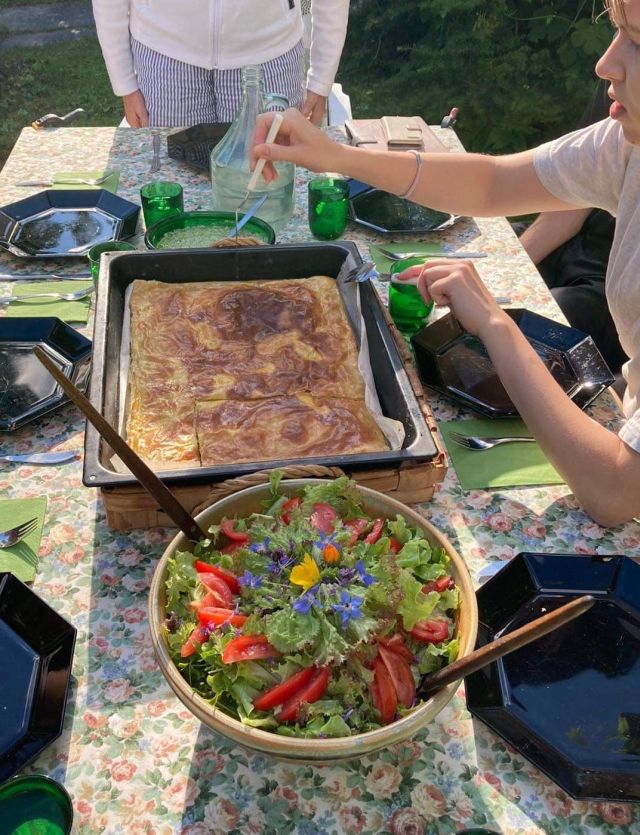 On Order beforehand , For ca 10 persones,  we can arrange a walk around Stentorp to pick some wild and cultivated herbs for making pesto and salad which is then eaten with lambsmeat pie. Coffee and choclatecake afterwards.  The costs are 27 €per p and takes about 2 h.
The main program is of course the craft and art.
Contact us for planning the program for your group: jill@stentorp.fi 0400 844 506
ENTRANCE AND PRESENTATION  ,  8 € PERSON
We can welcome one bus lot visitors at a time (50p) upon reservation the year around. Most visits take about one hour. With additional sheepdog show and coffee it takes about 2 hours.
A typical visit takes ca one hour. With coffee and a sheepdog show its best to reserve 2 hours.
More information in What's new  pages and Company
Menu  OIVA raportti
Summerdrink  9€ per pers
Coffee with homemade cake /lambsmeat pie( max 50 pers ) 12/15 € per pers
Lambsmeatpie  or vegetarian soup with salad, bread, coffee and cake ( max 25 pers ). 25 € per pers
Local fishmeny depending on availability.( max 10 pers)