Experience the beautiful nature, the magic atmosphere and peace
We offer interesting programs and attractions for different groups:
–Presentation of the enterprise and possibility to caress the sheep.
–Stroll in the beautiful surrounding by the sea
–Craft exhibition/ Farm shop or wool and fur products in the cellar (bodega) Stentorp collection
-Aquarelles in the dining room
–Summerexhibition 2022 in the emptied and cleaned Farmhouse. Lambswool-and skin products, aquarel and acryl paintings and photos in the emptied and cleaned farmhous. What´s new
-Sheepdog show? We hope our new young bordercollie has learned enough to give a show with the sheep. Our programs are suitable for young and old.
This summers yield : Wild Herbs tema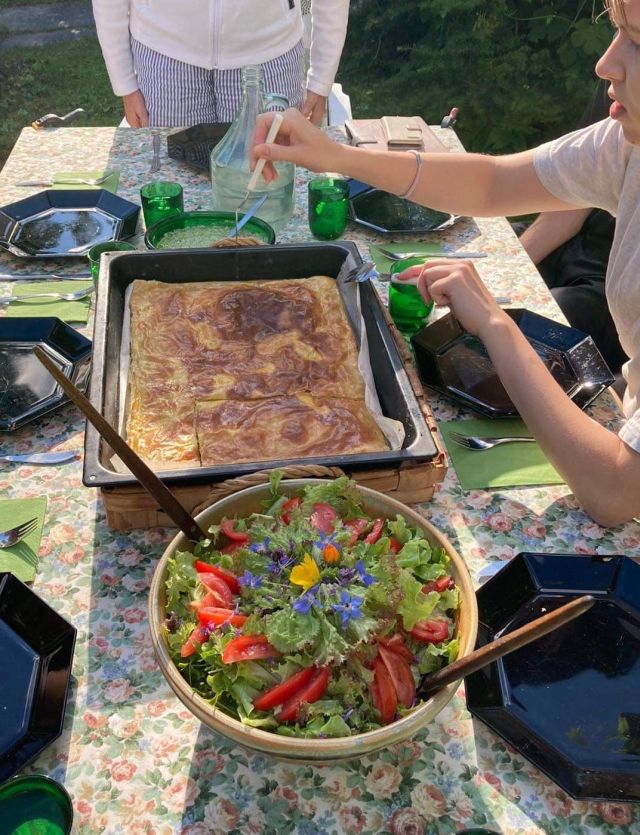 On Order beforehand , For ca 10 persones, we can arrange a walk around Stentorp to pick some wild and cultivated herbs for making pesto and salad which is then eaten with lambsmeat pie. Coffee and choclatecake afterwards. The costs are 27 €per p and takes about 2 h.
The main program is of course the craft and art.
Contact us for planning the program for your group: jill@stentorp.fi 0400 844 506
ENTRANCE AND PRESENTATION , 8 € PERSON
We can welcome one bus lot visitors at a time (50p) upon reservation the year around. Most visits take about one hour. With additional sheepdog show and coffee it takes about 2 hours, smaller groups less time.More information in What's new pages and Company
Menu
Summerdrink 9€ per pers
Coffee with homemade cake max 50 pers) /lambsmeat pie( max 20 pers ) 12/15 € per pers
Lambsmeatpie or vegetarian soup with salad, bread, coffee and cake ( max 25 pers ). 28 € per pers
Local fishmeny depending on availability.( max 10 pers)
Sheepdog show
See the cooperation between the sheepdog and the shepherd. You have a good opportunity to follow the dog working with the lambs on the shepherds whistle commands. The shepherd tells about the training and behavior of the dog about 20 min. The price is 60 €per group,
Sheepdog shows for visitors are arranged every Tuesday between 16-18 for minimum of 5 persons.
The price is 5 €per person.
Upon agreement for groups For groups
Sheepdog show for groups: 60€, 20 min, minimum 15 persons.