From wool and skin to ready product
Woolproducts
The surrounding nature, the sheep, the living in the archipelago, the Viking and Kalevala world are the wells of my inspiration. As every spinning lot contains of wool fibers from different sheep the nuances of the yarn varies every time. Depending on the light refraction when you combine natural fibers together, the colors on the ready sweater shows fascinating varieties.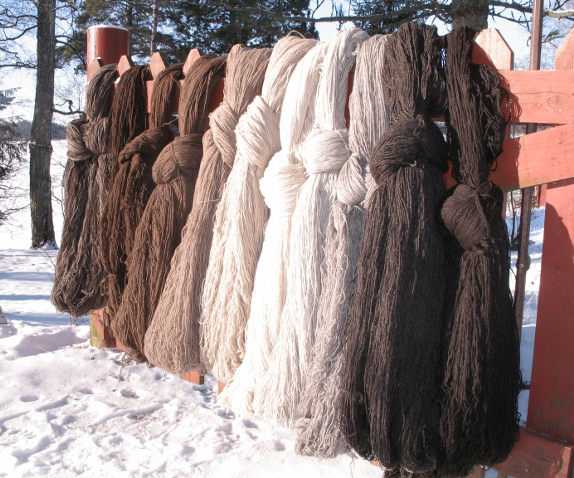 The Yarn
Lamb patterns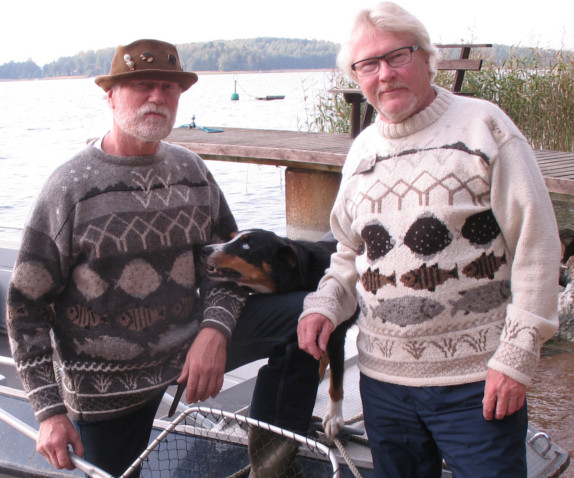 Nature patterns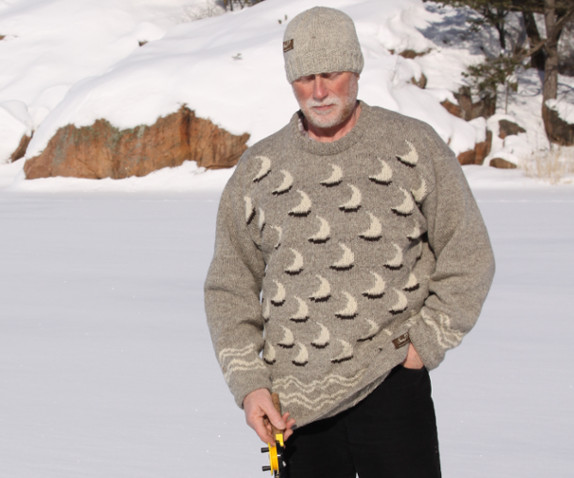 Archipelago cruisers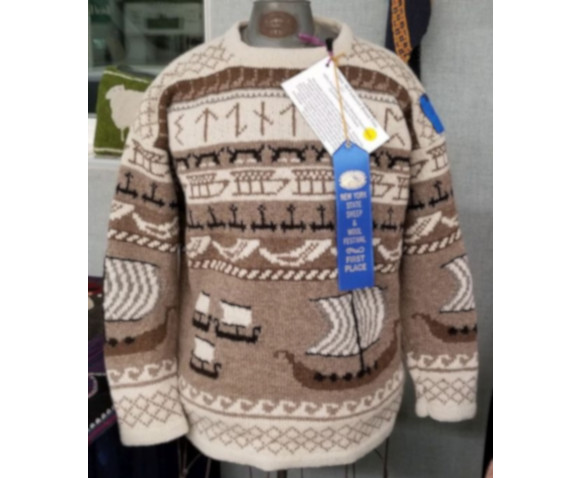 Saga,Myth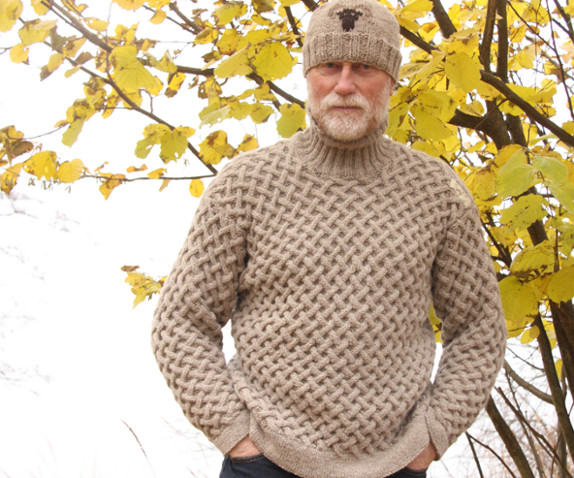 Surface patterns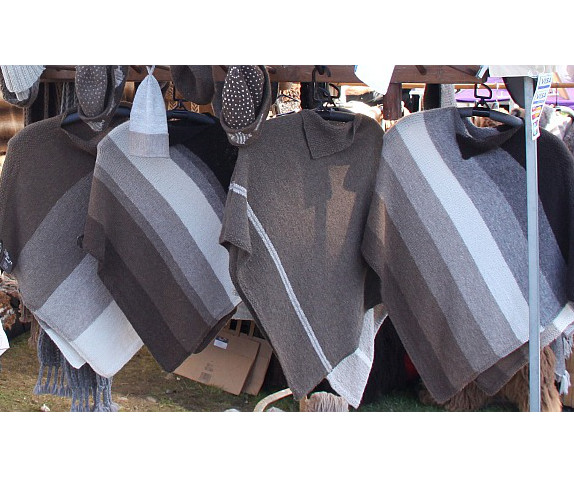 Ponchos, shawls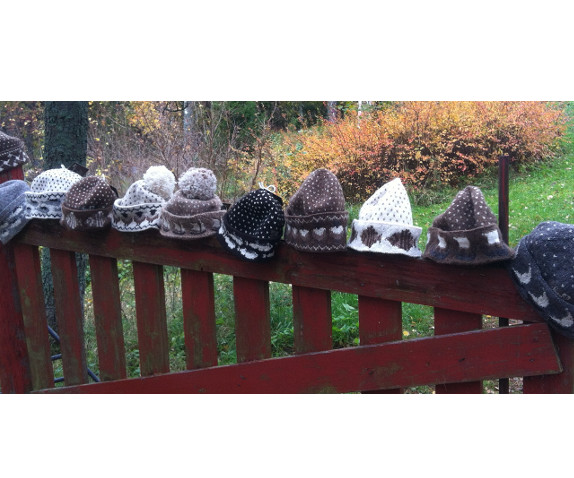 Hats, Mittens
The Yarn

The FINE FINNWOOL yarn consists of 100 percent Finnsheep wool.It is soft, not dyed, handled with care wihout chemicals in the spinnery so that the naural woolfat(lanolin) remains and makes the yarn water and dirt repellent. It is 2 ply, TEX 180x2, 270 m/100g. The skeins varies between 100-220 g and are awailable in 6-9 colour nyances.

Lamb patterns

1. SHEEPFLOCK sweaters
2. SHEEPFLOCK black sweater
3. SHEEPFLOCK white cardigan
4. LAMBFLOCK, beige longsleeves tunica
5. LAMBFLOCK black long tunica
6. SHEEP, brown sweater
7. SHEEPROW, white sweater
8. SHEEP GREY, grey simple , rowing
9. HANNIBALS HAREM brown
10. HANNIBALS HAREM, brown pullover
11. THE SHEPHERDS tone in tone jacket

Nature patterns

1. FLOUNDER grey and white pullover
2. BALTIC HERRING black pullover
3. BALTIC HERRING, grey pullover
4. CAT-PERCH, white sweater
5. CAT-PERCH, brown sweater
6. FLOUNDER pullover ,black
7. PARCH-HARR beige pullover
8. EJDER, brown sweater
9. REINDEERROW, grey pullover
10. REINDEERROW, brown, II Price in NYSHEEP&WOOL FESTIVAL 2019
11. RAINDEERROW, white
12. ALV tunika, black
13. MUSHROOM tunica
14.MUSHROOM tunica
15.SEAEAGLE, grey jacket
16. EJDER pullover ,beige
17. Viola tricolor,


Saga,Myth

1. VIKING beige pullover,Ist Price in NYSHEEP&WOOL FESTIVAL 2019
2. VIKING grey pullover
3. VIKING brown pullover
4. KONTIKI grey pullover
5. VIKING white cardigan
6. KALEVALA beige cardigan
7. KALEVALA black cardigan
8. MAIDEN DANCE white cardigan
9. MAIDEN DANCE black cardigan
10.FAIR ISLE brown sweater
11.ODIN/FREJA jacket,grey
12.SEAEAGLE
13.MAIDEN DANCE,white and brown tuinca
14.KALEVALA pullover


Surface patterns

1. SHINGLE lightbeige pullover,hat
2. SHINGLE darkbrown pullover, hat
3. SHINGLE grey pullover
4. FREJA cardigans ,grey,brown
5. LOTTIE brown pullover with hood
6. JANNE pullover
7. JANNE pullover
8. CHESS jacket
9.PALETTE jacket
10. RUTA short beige
11. SHINGLE with hat
12. Shepherds jacket front
13. Shepherds jacket back
14. Shinglerpw jacket,grey


Hats, Mittens

1. RANDHATS
2. SHINGLE RAND HATS
3.PERCH
4. AIRISTO
5.BRAIDHELMETS
6. SHETLAND
7. HELMETS
8. HANNIBAL
9. Plain white
10.HIP-HOPs with tassel
11. HIP-HOP white
12.BASKERHAT
13. BONBON hat,shawl,
14. Fingerlinger striped
15.Fingerlinger pattern
16.Mitten, lambs
17.Mitten, Reindeer
11. MITTENS

The Yarn
The FINE FINNWOOL yarn consists of 100 % Finnsheep wool. It is soft, not dyed, handled with care without chemicals in the spinning mill so that the natural "wool grease" (lanolin) remains and makes the yarn water and dirt repellent. It is 2 ply, TEX 180×2, 270 m/100g. The skeins varies between 100-220 g and are available in 6-9 color nuances. Some of the color combinations are seen in the collection. By ordering you can express your wishes.
My aim is that the product feels soft on your body, the material and pattern are timeless and in balance and corresponds to the modern, conscious consumers wishes.
Other products :
CHRISTMASKALENDAR 2020
A webshop is reasently published. All the products there are ready to be taken home or sent by Post.
More than wool! The feeling on the body, the myth behind the pattern!
The Stentorp products are unique design, handmade together with skillful local knitters we make sweaters, hats, and scarves. The skins are used to make fur vests, muffs and the smaller pieces are woven to carpets, cushions and other products. Other products in the collection are:
THE CRAFT EXHIBITION/ FARM SHOP IS OPEN ALL YEAR ROUND, DURING THE SUMMER SEASON DAILY BETWEEN 12 AND 16 O'CLOCK, OTHER TIMES UPON AGREEMENT. BEFORE CHRISTMAS WE ARE OPEN DAILY BETWEEN 12-16.
Pay a visit or contact us. We will figure out what we can offer you specifically. Dureing the coronapandemic we follow the restrictions thoroughly,keep distance, use masks and handdesi.
Be free to inquire about our products jill@stentorp.fi 0400 844 506 ,
Some Stentorp products are also available the craftshop in Helsinki  Oma Puoti and in Kimito,Sagalund,  and Bjåen Fjällstuve in Norway. Klick. We also attend different fairs and exhibitions.
Follow our Current page >>
By buying a Stentorp product you support the landscape care and possibilities to earn ones living, ethical and ecological processing from sheep to ready product.